Charles Dickens was the best-known novelist of his time, and is considered by many to be the greatest writer of the Victorian era. He was a writer who influenced people around him. The authorities had even to change some laws because of his books. He critisized and condemned the injustices of the Victorian society.
Besides, some of his characters are still part of our culture today. Everyone remembers Mr. Scrooge, Oliver Twist or David Copperfield for example. We can say he was a kind of social reformer in many aspects.
Watch the following video to learn a bit more about his life and his background.
Last year, 2012, was the bicentenary of his birth. Throughout that year lots of different activities were done to pay homage to him and remember his novels. Even though he is a 19th century writer his work transcends his time and even his language and culture, because his books still inspire films, series, literature, etc.
Let´s watch the following video about why celebrating Dickens bicentenary and answer the questions below.
1. What was celebrated in 2012 and why?
2. What kind of things are going to be done?
3. What kind of connection does Lucinda Hawksley have with Dickens and what does she do?
4. What can you find at the Charles Dickens Museum?
5. What´s the aim of the celebrations of Dicken´s birth and how do they want to achieve that?
It is very difficult to select just one book to read because many of them are interesting. So in the end I have decided to read and work with David Copperfield and some "original" extracts.
Dickens himself said about this book:
Of all my books, I like this the best. It will be easily believed
that I am a fond parent to every child of my fancy,
and that no one can ever love that family as dearly as I love them…
But, like many fond parents, I have in my heart of hearts
a favourite child. And his name is DAVID COPPERFIELD.
The novel is told from a first-person point of view, and it is considered his most autobiographical work. It is a bildungsroman that shows us a boy's struggle to find his place in the world. The novel as many others, probes the social injustices of the time. Copperfield has a turbulent childhood at the hands of his cruel stepfather followed by a rough education. However he is also guided sometimes by unexpected goodness. Little by little as he grows up and he turns into a man, he will find love but also betrayal and harships.
David Copperfield is a story of memories. As an adult he goes back to certain moments of his past. If you had to write about your early childhood, what would you say?
Let´s read chapter 4. I Fall into Disgrace:
-
David remembers certain aspects about his education. Let´s analyze an extract and contrast it with education nowadays.
- Let´s analyze as well the figure of the narrator, setting and
characters.
- Cultural aspectos from the 19th century victorian society that we can see in the extract.
Below, you have one adaptation by the BBC where you can find actors such as Bob Hoskins, Maggie Smith, Ian McKellen or Daniel Radcliffe ( Harry Potter) when he was very young. It was quite successful in 2000. You can watch it to learn more about the period, the way people behaved, how class- conscious people were, how the relationship between adults and children or between men and women were, etc.
To finish off, here you have some games to learn more about the Victorians and a bit more about Charles Dickens and his characters.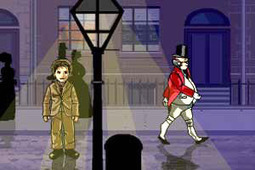 1.
Help Kit find his way in the Victorian London and learn about typical places of the time. You just have to follow the instructions and move him with you mouse. Have a go and Enjoy!!!
http://www.bbc.co.uk/arts/multimedia/dickens/index_popup.shtml
2.
Click on this link, then go to the games section and click on the ´"What the Dickens? game show." Spin the wheel, and do what you are going to be told.